The Ultimate Sponge Rubber Weatherstrip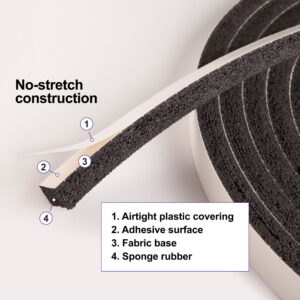 Original DORTITE gasketing tape, made in the United States, is constructed of natural open-cell sponge rubber, combined with a non-stretch backing and a very aggressive rubber-based adhesive.
Colors: Black
Applications
DORTITE gasketing tape is commonly used in HVAC and air filtration to minimize vibration, and off-highway equipment door seals. Ideal for weather stripping, sound and vibration dampening, cushioning, dust proofing and insulation. Uses: RV's and Auto's (Automotive).
Features and Benefits
Meets ASTM 1056-68 RO12
Non-stretch
Easy-to-use versatility
Excellent memory to retain shape
Long product life
Thicknesses: 1/8″ (3.175 mm), 3/16″ (4.763 mm), 1/4″ (6.35 mm), 5/16″ (7.874 mm), 3/8″ (9.652 mm), 7/16″ (11.176 mm) and 9/16″ (14.224 mm)
Rolls: 25′ (7.62 m) and 50′ (15.24 m)
Widths: 1/4″ (6.35 mm) to 40″ (1,062 mm)
Temperature Range: 20° – 200°F (-28° – 93°C)
Related Links
DORTITE and DORTITE XTRA is Certified by: